We're Getting Mutants in the MCU - The Loop
Play Sound
Will You Be There
Genre
Gospel, Soul, Spirituals, R&B
Released
June 28, 1993
Album
Dangerous
Recorded
1990 - 1991
Length
7:39
Label
Epic
Producer
Michael Jackson, Bruce Swieden
Navigation guide
Will You Be There is one of Michael Jackson's songs and singles in the album, Dangerous. This song was released in June 28, 1993 and was recorded
in 1990 to 1991. This song was written, composed, and produced by Michael Jackson and was co-produced by Bruce Swedien. This song is the main theme from the film, Free Willy and the lyrics were included in Michael's book of poems and reflections, Dancing The Dream, which was published in 1992.[1][2]
Lyrics
(Angel's intro)
(Piano intro)
Hold me
Like the River Jordan
And I will then say to thee
You are my friend
Carry me
Like you are my brother
Love me like a mother
Will you be there?
When weary
Tell me will you hold me
When wrong, will you mold me
When lost will you find me?
But they told me
A man should be faithful
And walk when not able
And fight till the end
But I'm only human
Everyone's taking control of me
Seems that the world's got a role for me
I'm so confused will you show to me
You'll be there for me
And care enough to bear me
(Hold me)
(Lay your head lowly)
(Softly then boldly)
(Carry me there)
(Hold me)
(Love me and feed me)
(Kiss me and free me)
(I will feel blessed)
(Carry)
(Carry me boldly)
(Lift me up slowly)
(Carry me there)
(Save me)
(Heal me and bathe me)
(Softly you say to me)
(I will be there)
(Lift me)
(Lift me up slowly)
(Carry me boldly)
(Show me you care)
(Hold me)
(Lay your head lowly)
(Softly then boldly)
(Carry me there)
(Need me)
(Love me and feed me)
(Kiss me and free me)
(I will feel blessed)
In our darkest hour
In my deepest despair
Will you still care?
Will you be there?
In my trials and my tribulations
Through our doubts and frustrations
In my violence
In my turbulence
Through my fear and my confessions
In my anguish and my pain
Through my joy and my sorrow
In the promise of another tomorrow
I'll never let you part
For you're always in my heart
This song is the 11th song in this album.[3]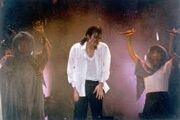 Awards
The song became one of the bigger hits from Dangerous staying in the Top 40 for over six weeks in the UK. The
single achieved even greater success in the U.S., where it sold over 500,000 copies and stayed in the Top 10 for six weeks, peaking at number 7 and was later certified Gold in the US. On the European continent, the single reached number one in the MTV Eurochart, though it missed the Top 10 in many of the other European charts, including Germany and France. The single has sold 1,050,000 copies worldwide.
Lawsuit
It featured the Andrae Crouch Singers on backing vocals, and opened with 67 seconds of Beethoven's 9th Symphony, played by the Cleveland Orchestra - uncredited. A $7 million copyright infringement lawsuit was filed - settled in December 1992, and one outcome was all future copies of Dangerous must credit Ludwig Van Beethoven and the Cleveland Orchestra on Will You Be There.
It was also a subject of another lawsuit filed by Albano Carrisi, who claimed the melody of the song was stolen from his composition, I Cigni Di Balaka.
Teddy Riley's Words About The Song
This is Michael again. Bringing a vocal choir in on the track was a stroke of genius. It's something I'd consider doing since hearing him do it. It's a long song as well, a lot of this album really clocks in. This nearly hits eight minutes, I think – it's not a punchy radio edit! Yes, it's long but it came across really well for the album. A lot of the songs on the album are long. That's what makes the album I think.
External Links
References