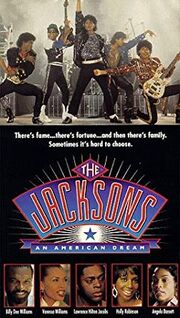 The Jacksons: An American Dream is a five-hour American miniseries that premiered on ABC in 1992. It is based on the early and successful years of the Jackson family from their career at Motown to the beginning of Michael's solo career.
The miniseries was executive produced by Suzanne de Passe and Stan Marguiles, produced by Joyce Eliason, Jermaine Jackson, and Margaret Maldonado and directed by Karen Arthur. The movie was filmed in Los Angeles, California and Pittsburgh, Pennsylvania.
The Jacksons: An American Dream is based on Katherine Jackson's My Family autobiography. The series was a critical and commercial success, the program won an Emmy Award for Outstanding Individual Achievement in Choreography. 
Plot
Part one of the film details how Joseph and Katherine Jackson meet, marry, and raise nine children in the small town of Gary, Indiana. Later, The Jackson 5's early beginnings and growing fame is introduced.
Part two of the film shows the struggles of a young Michael Jackson as he encounters teenage obstacles, deals with his brothers marrying early, experiences the launch of his solo career, and confronts his difficult relationship with his father.
Cast
Lawrence Hilton-Jacobs as Joseph Jackson
Angela Bassett as Katherine Jackson
Holly Robinson Peete as Diana Ross
Margaret Avery as Martha Scruse
Billy Dee Williams as Berry Gordy
Vanessa Williams as Suzanne de Passe
Wylie Draper as Michael Jackson
Abolade David Olatunde as Michael Jackson (baby)
Alex Burrall as Michael Jackson (ages 6–8)
Jason Weaver as Michael Jackson (ages 9–14)
Colin Steele as Jermaine Jackson
Jermaine Jackson II as Jermaine Jackson (ages 10–17)
Terrence Howard as Jackie Jackson
Bumper Robinson as Jackie Jackson (ages 13–17)
Monica Calhoun as Rebbie Jackson
Ebonie Smith as La Toya Jackson
Kelli Martin as La Toya Jackson (ages 8–10)
Angel Vargas as Tito Jackson
Shakiem Jamar Evans as Tito Jackson (ages 11–15)
Maya Nicole Johnson as Janet Jackson
Monica Allison as Hazel Gordy
Robert Redcross as Randy Jackson
Nicolas Phillips as Randy Jackson (ages 7–9)
Marcus Maurice as Marlon Jackson
Floyd Myers Jr. as Marlon Jackson (ages 7–9)
Jacen Wilkerson as Marlon Jackson (ages 10–15)
Gallery
Production
Runtime: 240 minutes
Companies: De Passe Entertainment
KJS Films
Motown Productions
PolyGram Filmed Entertainment
Stan Margulies Productions
Trivia
Jermaine Jackson II played the younger version of his father.
Kipp Lennon provided teenage and adult Michael Jackson's singing vocals for certain songs, Kipp also provided the singing vocals for Michael Jackson in the Simpsons episode Stark Raving Dad.
Michael Jackson personally wanted Angela Bassett to play Katherine.
This was Terrence Howard's debut production.
Jason Weaver sang some of Young Michael's song whenever an actual song wasn't playing.
Wylie Draper who played teenage and adult Michael passed away a year after the series release from leukemia at 24.