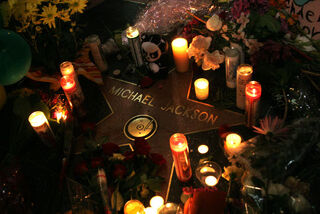 On June 25, 2009 an emergency 911 call was dialed around 12:21 p.m that Michael Jackson had collapsed and was unconscious. Paramedics arrived to perform CPR on him. Later he was pronounced dead at the Ronald Regan UCLA Medical Center.
Global Mourning
The news of Jackson's death triggered grief and denial around the world. Sites and search engines began to crash due to user overload,
Fans gathered around Jackson's childhood home and Neverland Ranch with flowers, photos and candles, and playing Michael Jackson music all day and night. 
Memorial Service
The memorial service was held July 7, 2009 at the Staples Center in Los Angeles. Jackson's family, friends and fans were present. The program began with the choir singing Amazing Grace, and near the midst of the song the Jackson brothers, all wearing a sequined white glove, brought out Michael Jackson's solid gold casket which was worth about $25,000. 
A eulogy was given by Pastor Lucious Smith. Singers such as Mariah Carey, Stevie Wonder, Usher, Jennifer Hudson, Lionel Richie and  Shaheen Jafargholi sang songs from Jackson. Brooke Shields, Berry Gordy and Smokey Robinson gave eulogies while Queen Latifah read the poem "We Had Him" by Maya Angelou. Reverend Al Sharpton was given a standing ovation once he told Jackson's children "Wasn't nothing strange about your daddy. It was strange with what your daddy dealt with."
The event is most remembered because of Jackson's 11-year old daughter, Paris speaking out for the very first time. Whilst giving a speech about her father, she broke out in tears saying. "I just wanted to say, ever since I was born, Daddy has been the best father you could ever imagine, and I just wanted to say I love him...so much." including Jackson's brother Marlon saying "Maybe now, they will leave you alone."
Aftermath
Jackson became the best selling artist of 2009. Jackson broke three chart record in the first isue of Billboard.
Game company Ubisoft announced a new Dance game to be released out for the holiday season under the name of "Michael Jackson: The Experience" on November 23, 2010.
Cirque De Soleil announce " Michael Jackson the Immortal Tour" it ran from October 2, 2011 and ended on August 31,2014.  Then a second show called "Michael Jackson: One". 
Death Hoax?
Immediately after Jackson's death there have been speculations that Jackson may have indeed faked it all. 
There was much evidence that proved Jackson to be alive and well. But the most famous hoax is thought to be on the Larry King Live show where Michael Jackson is thought to have disguised himself as his friend Dave Dave who was a burn victim.
Jermaine Jackson has been accused of helping Jackson out with the hoax. 
More evidence came about such as Jackson disguising himself as a woman at his own memorial service and an old man at his funeral. It was proven to have been Shannon Tweed at the memorial and just a family member at the funeral.
Many have claimed that Jackson's appearance at the This Is It announcement was a hoax and that it was an impersonator named Barry Shaw who resembled Jackson incredibly. This was proven to be false.
All evidence to prove Michael Jackson is alive has been proven false.
Conrad Murray
Michael Jackson's personal physician, Conrad Murray was proven guilty of involuntary manslaughter at the death of Michael Jackson. He was soon to serve four years in prison but was released early for good behavior.