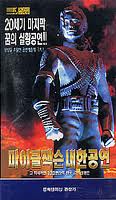 HIStory: Live in Seoul is a concert by Michael Jackson. It was the twelfth concert of the HIStory World Tour. It is professionally filmed by Nocturne Productions, Ltd, which filmed all of Jackson's tours and private affairs.
Overview
During the performance of "Earth Song", Jackson, (who was up on a cherry picker) was accosted by a male Korean fan who climbed up the crane just to meet Jackson. Michael held on to the man because he had a risk of falling. The man was then taken away by security after the crane was lowered. This concert was commercially released on VHS in Korea. Before the release of the Live in Bucharest DVD, this was the only commercially released Michael Jackson concert. Despite an official release, the versions that have appeared online are poor quality leaks because copy protection of the original VHS has prevented a good quality rip. The intros and endings of some songs are cut off.
Set list
"Great Gates Of Kiev" Video Intro
HIStory Medley
Wanna Be Startin' Something
Stranger In Moscow
Smooth Criminal
"The Wind" Video Interlude
You Are Not Alone
The Way You Make Me Feel
Jackson 5 Medley
Billie Jean
Thriller
Beat It
Come Together/D.S.
"Black Panther" Video Interlude
Dangerous
Black Or White
Earth Song
"We Are The World" Video Interlude
Heal The World
HIStory
Video
Community content is available under
CC-BY-SA
unless otherwise noted.