Gone Too Soon is one of Michael Jackson's songs in the album, Dangerous. This song was released on December 1, 1993 and was recorded in 1990-1991. This song was written by Larry Grossman and Buz Kohan and was produced by Michael Jackson (With co-production by Bruce Swedien). This song was written and dedicated in memory of one of Michael Jackson's friends, Ryan White, a haemophiliac who was diagnosed with the AIDS virus aged eleven years, and who died just after turning eighteen in April 1990.[1][2]
Credits
Music by Larry Grossman
Lyrics by Buz Kohan
Produced by Michael Jackson
Co-produced by Bruce Swedien
Recorded and mixed by Bruce Swedien
Solo vocal: Michael Jackson
Rhythm arrangement by David Paich
Orchestra arranged and conducted by Marty Paich
Keyboards: David Paich
Synthesizers: David Paich, Steve Porcaro and Michael Boddicker
Bass: Abraham Laboriel
Percussion: Paulinho Da Costa
Prelude composed, arranged and conducted by Marty Paich
Lyrics
Like A Comet
Blazing 'Cross The Evening Sky
Gone Too Soon
Like A Rainbow
Fading In The Twinkling Of An Eye
Gone Too Soon
Shiny And Sparkly
And Splendidly Bright
Here One Day
Gone One Night
Like The Loss Of Sunlight
On A Cloudy Afternoon
Gone Too Soon
Like A Castle
Built Upon A Sandy Beach
Gone Too Soon
Like A Perfect Flower
That Is Just Beyond Your Reach
Gone Too Soon
Born To Amuse, To Inspire, To Delight
Here One Day
Gone One Night
Like A Sunset
Dying With The Rising Of The Moon
Gone Too Soon
Gone Too Soon
This song is the 13th song in this album.[3]
Teddy Riley's Words About The Song
Another innovative track. I think he was trying to reinvent himself and become more credible; more commercial and he achieves that here. It reminds me of a more worldly version of She's Out Of My Life. With this album he's hinting at his past songs as well as trying to reinvent himself.
External Links
Trivia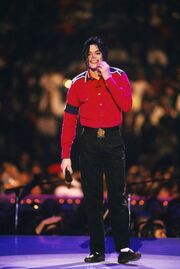 Michael would only perform the song once. He would perform it at Bill Clinton inauguration in 1993.
References
Community content is available under
CC-BY-SA
unless otherwise noted.